Here are some cool new comics on-sale this week that I worked on!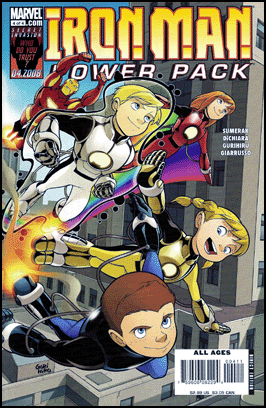 IRON MAN & POWER PACK #4
Written by MARC SUMERAK
Art by MARCELO DiCHIARA
Cover by GURIHIRU
Iron Pack Assemble! Iron Man suits the Power kids up in style for the series finale. And how do they repay the golden Avenger for the cool new costumes? By destroying all of the hero's classic armors... and then turning the fight against Iron Man himself! Geez... kids these days! It's hero vs. hero... as a sinister super-villain secretly pulls the strings! Part 2 of 2.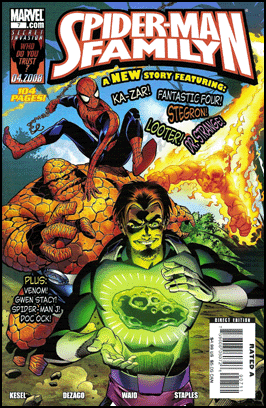 SPIDER-MAN FAMILY #7
Written by WAID, DeZAGO, AKIRA & SUMERAK
Art by KESEL & AKIRA
Cover by KARL KESEL
The Looter! This guy found a meteorite that gave him enhanced speed and strength, and the misconception that he's a genius (he's actually dumber than dirt). So WHY is he such a pain to Spidey and the FF??? Well, obviously it... oh, wait. I can't tell you why. Read and find out! This special issue is brought to you by Mr. Kesel, DeZago and Waid, who take you on an adventure that spans their buddy Mike Wieringo's favorite places in the Marvel U! We miss ya, Mike! Also featuring classic tales and
Spider-Man J!
.
Labels: Marvel