On-Sale Dec. 12, 2007...
New comics by Sumerak on-sale Dec. 12, 2007...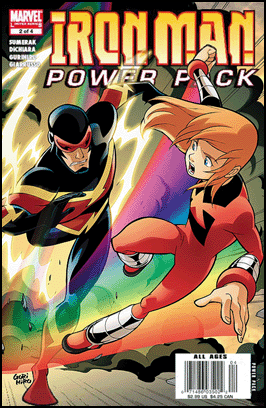 IRON MAN & POWER PACK #2
Written by MARC SUMERAK
Art by MARCELO DiCHIARA
Cover by GURIHIRU
The race is on -- in more ways than one! Julie Power is running for class president against the meanest girl in school... but before all the votes are in, she'll find herself running to catch one of Marvel's fastest villains, the Speed Demon! Can Iron Man help lead Power Pack to the finish line first? Maybe if the weather stays good... Wait? What's that about a Blizzard?!?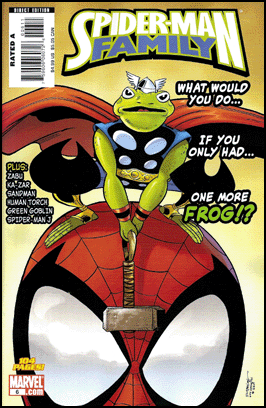 SPIDER-MAN FAMILY #6
Written by ELIOPOULOS, AKIRA & SUMERAK
Art & Cover by ELIOPOULOS & AKIRA
(ribbit) Time for a team-up, Spidey! (ribbit) Let's see... Iron Man's busy (ribbit), Captain America's a little under the weather (ribbit), the FF are doing their own (ribbit) thing... who's not busy this month? (ribbit) FROG THOR!!!!!!!! And while you're (ribbit) trying to figure out how a frog holds a (ribbit) hammer, you can read the classic (ribbit) archive material and
SPIDER-MAN J!
104 pages... best (ribbit) deal in comics!
This issue features a
SPIDER-MAN J
story with localized translation by Sumerak!
.
Labels: Marvel