Coming in February...
It's one new book a week this February! Check 'em out...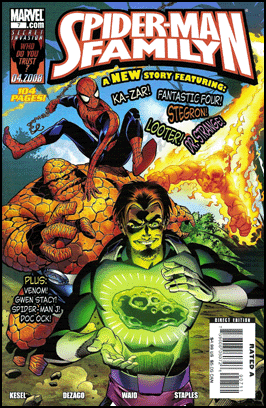 SPIDER-MAN FAMILY #7
Written by WAID, DeZAGO, AKIRA & SUMERAK
Art by KESEL & AKIRA
Cover by KARL KESEL
The Looter! This guy found a meteorite that gave him enhanced speed and strength, and the misconception that he's a genius (he's actually dumber than dirt). So WHY is he such a pain to Spidey and the FF??? Well, obviously it... oh, wait. I can't tell you why. Read and find out! This special issue is brought to you by Mr. Kesel, DeZago and Waid, who take you on an adventure that spans their buddy Mike Wieringo's favorite places in the Marvel U! We miss ya, Mike! Also featuring classic tales and
Spider-Man J
!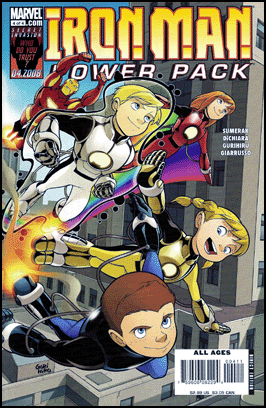 IRON MAN & POWER PACK #4
Written by MARC SUMERAK
Art by MARCELO DiCHIARA
Cover by GURIHIRU
Iron Pack Assemble! Iron Man suits the Power kids up in style for the series finale. And how do they repay the golden Avenger for the cool new costumes? By destroying all of the hero's classic armors... and then turning the fight against Iron Man himself! Geez... kids these days! It's hero vs. hero... as a sinister super-villain secretly pulls the strings! Part 2 of 2.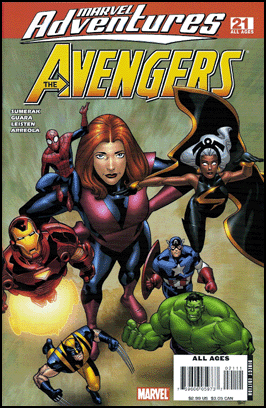 MARVEL ADVENTURES: AVENGERS #21
Written by MARC SUMERAK
Art by IG GUARA
Cover by LEONARD KIRK
The Russians are coming! The Russians are coming! Get ready to cry "Wolverine!" at the top of your lungs, 'cause Avengers Tower is about to go all "Red Dawn" when the Crimson Dynamo invades! But who is the super-spy on the armored villain's trail... and can she be trusted?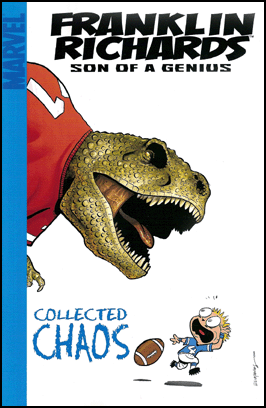 FRANKLIN RICHARDS: COLLECTED CHAOS Digest
Written by MARC SUMERAK & CHRIS ELIOPOULOS
Art & Cover by CHRIS ELIOPOULOS
Move over, Mr. Fantastic -- the progeny of Marvel's First Family has a brand-new digest! Franklin Richards returns with this collection of four critically-acclaimed
FRANKLIN RICHARDS: SON OF A GENIUS
one-shots! Join Franklin and his robot pal H.E.R.B.I.E. as they head into Reed's lab for all kinds of fantastic fun, amazing adventures, and more trouble than you can shake an Ultimate Nullifier at! This compilation is bound to bring out the kid in every reader!
This digest-sized trade paperback collects
FRANKLIN RICHARDS: MARCH MADNESS!, FRANKLIN RICHARDS: WORLD BE WARNED, FRANKLIN RICHARDS: MONSTER MASH
and
FRANKLIN RICHARDS: FALL FOOTBALL FIASCO!
one-shots.
.
Labels: Marvel