Coming in January...
Shameless self promotion time again!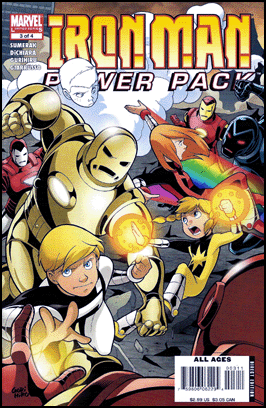 IRON MAN & POWER PACK #3
Written by MARC SUMERAK
Art by MARCELO DiCHIARA
Cover by GURIHIRU
Someone is using stolen Stark Industries technology to take control of Marvel's most high-tech heroes and villains. Sounds like the perfect time for Power Pack to attend an exhibit of old Iron Man armor! Nothing could possibly go wrong there... right? Part 1 of 2.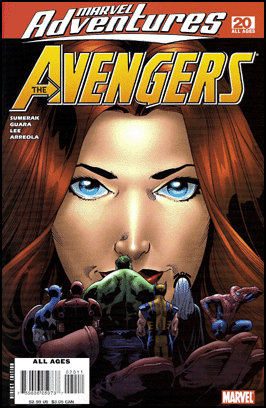 MARVEL ADVENTURES: AVENGERS #20
Written by MARC SUMERAK
Art by IG GUARA
Cover by LEONARD KIRK
The arrival of Ant-Man! Hank Pym has gone missing from his lab at Van Dyne Industries, and it's up to his most famous experiment -- the gorgeous Giant-Girl -- to track him down. But when Giant-Girl finds herself stuck in the middle of a very bizarre love triangle, it's time for the world's tiniest super hero makes his diminutive debut! Will he be able to prove that size doesn't really matter?
HULK: THE END Premiere Hardcover
Written by PETER DAVID
Art & Cover by DALE KEOWN & GEORGE PEREZ
Chronicling the final days of the Green Goliath! Peter David and Dale Keown, creative team on some of the Hulk's most memorable tales, reunite to produce this searing vision of the future in which Bruce Banner, the Incredible Hulk, is the last man on Earth. It's the Hulk's final battle, as "The Last Titan" wrestles his inner-demons in order to discover his place in a dying world -- if only he can survive! Plus: The testing of the first Gamma Bomb thrust upon Robert Bruce Banner led to what he would come to believe would be his greatest nightmare: his unwilling transformation into the Incredible Hulk. He believed wrong. Now, having been dragged into the future -- into a post-holocaust, dystopian world -- Bruce Banner discovers that his nightmare has a whole new name: the Maestro. This is a nightmare that only Hulk can end; for he knows that he himself is responsible for the presence of the evil Maestro. The future, our future, and the Incredible Hulk will never quite be the same. And neither will you.
This premiere hardcover collection reprints
HULK: THE END
, on which Sumerak originally served as Assistant Editor!
.
Labels: Marvel