New Comics On-Sale March 5, 2008...
Today sees the release of my very first issue of
MARVEL ADVENTURES: SPIDER-MAN
! Hooray!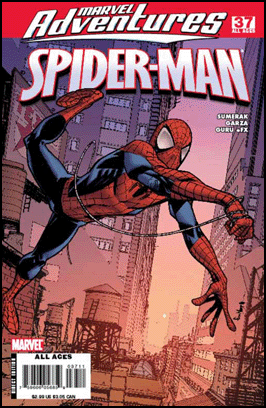 MARVEL ADVENTURES: SPIDER-MAN #37
Written by MARC SUMERAK
Art by ALE GARZA
Cover by SEAN MURPHY
They say the best defense is a good offense and Peter Parker doesn't find anyone more offensive than Midtown High's biggest bully, Flash Thompson! When Peter starts taking self-defense classes, he figures he can finally stand up to Flash without giving away his secret life as the Amazing Spider-Man. Too bad the Taskmaster has other plans for our webbed wonder...
.
Labels: Marvel