New Comics On-Sale July 10, 2008...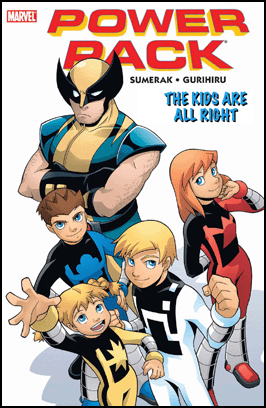 POWER PACK: THE KIDS ARE ALL RIGHT Hardcover
Written by MARC SUMERAK
Art & Cover by GURIHIRU
It's all-ages action in the mighty Marvel manner! Marvel's youngest team of super heroes returns for more awesome action, family fun and Snark-stomping adventures --and this time they've brought some very special friends! Hot on the heels of four fun-filled, all-ages solo adventures, everyone's favorite super-powered siblings team up with Marvel's merry mutants, the X-Men! Featuring Wolverine, Beast, Nightcrawler and Cyclops! Then, Power Pack returns for another titanic team-up -- and this time, it's Earth's Mightiest Heroes leading the charge! Featuring Captain America, Iron Man, Spider-Man, Spider-Woman and more!
This oversized hardcover collects
POWER PACK #1-4, X-MEN & POWER PACK #1-4
and
AVENGERS & POWER PACK ASSEMBLE! #1-4
.
.
Labels: Marvel