Coming in July...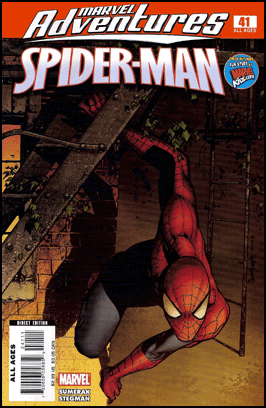 MARVEL ADVENTURES: SPIDER-MAN #41
Written by MARC SUMERAK
Art by RYAN STEGMAN
Cover by SEAN MURPHY
Start your engines, Spider-Fans, because Peter Parker is about to hit the highway on one of the most exciting adventures of his young life -- Midtown High's Driver's Ed course! But the road to four-wheeled freedom becomes bumpy when the monstrous Man-Bull stampedes through the city streets! It's high-octane hijinks at the speed of Spidey!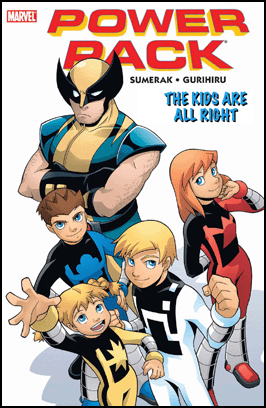 POWER PACK vol. 1 Hardcover
Written by MARC SUMERAK
Art & Cover by GURIHIRU
It's all-ages action in the mighty Marvel manner! Marvel's youngest team of super heroes returns for more awesome action, family fun and Snark-stomping adventures --and this time they've brought some very special friends! Hot on the heels of four fun-filled, all-ages solo adventures, everyone's favorite super-powered siblings team up with Marvel's merry mutants, the X-Men! Featuring Wolverine, Beast, Nightcrawler and Cyclops! Then, Power Pack returns for another titanic team-up -- and this time, it's Earth's Mightiest Heroes leading the charge! Featuring Captain America, Iron Man, Spider-Man, Spider-Woman and more!
This oversized hardcover collects
POWER PACK #1-4, X-MEN & POWER PACK #1-4
and
AVENGERS & POWER PACK ASSEMBLE! #1-4
.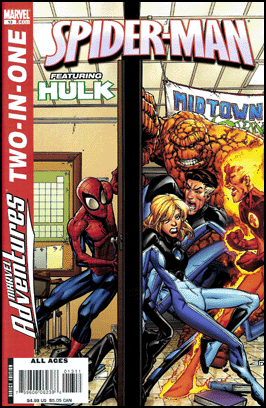 MARVEL ADVENTURES: TWO-IN-ONE #13
Written by MARC SUMERAK & PAUL BENJAMIN
Art by RYAN STEGMAN & DAVID NAKAYAMA
Cover by PATRICK SCHERBERGER
Reprinting
MARVEL ADVENTURES: SPIDER-MAN #39
and
MARVEL ADVENTURES: HULK #4
!
FANTASTIC FOUR: LOST ADVENTURES Premiere Hardcover
Written by STAN LEE
Art by JOHN ROMITA, JR. & JACK KIRBY
Cover by JOHN ROMITA, JR.
The comic-book equivalent of a lost Beatles track! Together, Stan Lee and Jack Kirby produced 102 consecutive issues of FANTASTIC FOUR. But there was a 103rd story they'd begun in 1970, but never finished -- until now! Working from copies of Jack's penciled pages, Stan Lee and Joe Sinnott reunited to complete the work they started almost four decades ago! Plus: The legendary writer and Fantastic Four co-creator joins forces with artist John Romita Jr. to tell his final story of the team that started the Marvel Age!
Collecting
FANTASTIC FOUR: THE LOST ADVENTURE
and
THE LAST FANTASTIC FOUR STORY
(which began production when Sumerak was an Assistant Editor)!
.
Labels: Marvel