New Comics On-Sale March 19, 2008...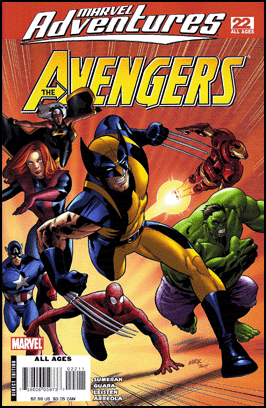 MARVEL ADVENTURES: AVENGERS #22
Written by MARC SUMERAK
Art by IG GUARA
Cover by LEONARD KIRK
The Avengers take a walk on the wild side as they go toe-to-toe -- and claw-to-claw with the savage Sabretooth! Hope you all have current passports, heroes, because this adventure is going to take you deep into the heart of the African jungle... and right into the heart of the mysterious nation known as Wakanda! (Looks like Sabretooth isn't the only cat about to cross the Avengers' paths...)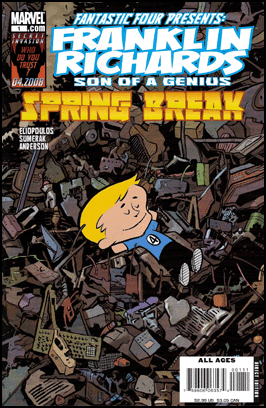 FRANKLIN RICHARDS: SPRING BREAK!
Written by MARC SUMERAK & CHRIS ELIOPOULOS
Art & Cover by CHRIS ELIOPOULOS
Spring is finally here! The snow is thawing, the days are getting longer, and Franklin Richards is destroying everything in his super hero father's secret lab. (Wait... that last part happens every season!) Franklin Richards comes in like a lion this March in five brand-new tales filled with doohickeys and destruction... and it'll once again be up to his robot pal H.E.R.B.I.E. to handle the spring cleaning after the damage is done! This special one-shot is gonna make the Fantastic Four wish they had gone on a long vacation...
.
Labels: Marvel