Coming in June...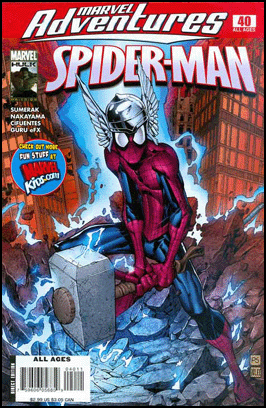 MARVEL ADVENTURES: SPIDER-MAN #40
Written by MARC SUMERAK
Art by DAVID NAKAYAMA
Cover by PATRICK SCHERBERGER
"Whosoever holds this hammer, if he be worthy, shall possess the power of -- Spider-Man?!?" When our webbed wonder unwittingly aids a devious demi-goddess, his reward is a one way ticket to Asgard. But things start going south as soon as Spidey starts going Norse! Prepare for an epic tale that the bards will sing of for centuries to come (most likely with an occasional unnecessary "thee" or "thou" thrown in for good measure)!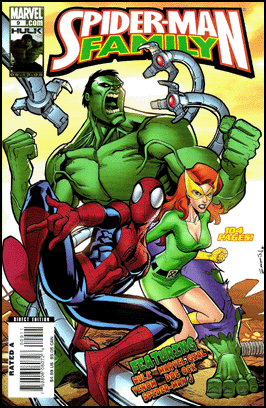 SPIDER-MAN FAMILY #9
Written by TOBIN, AKIRA & SUMERAK
Art & Cover by AUCOIN & AKIRA
Spider-Man, the friendly neighborhood... chaperone? When the S.H.I.E.L.D. helicarrier races off to fight a hostile UFO, Nick Fury asks (okay, tells) Spider-Man that he needs to watch after Bruce Banner. Now all Spidey needs to do is convince a city full of assorted thieves and felons (and... DANG... Dr. Octopus!) to KEEP IT DOWN for the day, cuz, you know, this is the guy that turns into the Hulk. PLUS: the story no one thought they would see, the debut of all-new backup feature "Mr. & Mrs. Spider-Man"! In this first installment, using their individual talents, Peter and Mary Jane Parker join forces to prevent the Lizard from destroying his own family. Also featuring
Spider-Man J
!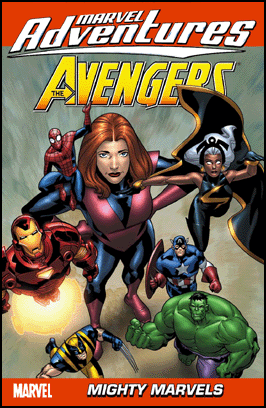 MARVEL ADVENTURES: AVENGERS, vol. 6: MIGHTY MARVELS Digest
Written by MARC SUMERAK
Art by IG GUARA & KEVIN SHARPE
Cover by LEONARD KIRK
Facing the foes no single super hero could withstand! When global threats surface, they must contend with the combined might of: Captain America! Storm! Iron Man! The Hulk! Giant-Girl! Wolverine! Spider-Man! It's all-ages action in the Mighty Marvel Manner! Featuring the Crimson Dynamo, the Black Widow, the arrival of Ant-Man and more!
Collecting
MARVEL ADVENTURES: AVENGERS #20-23
.
FANTASTIC FOUR: LOST ADVENTURES Premiere Hardcover
Written by STAN LEE
Art by JOHN ROMITA, JR. & JACK KIRBY
Cover by JOHN ROMITA, JR.
The comic-book equivalent of a lost Beatles track! Together, Stan Lee and Jack Kirby produced 102 consecutive issues of FANTASTIC FOUR. But there was a 103rd story they'd begun in 1970, but never finished -- until now! Working from copies of Jack's penciled pages, Stan Lee and Joe Sinnott reunited to complete the work they started almost four decades ago! Plus: The legendary writer and Fantastic Four co-creator joins forces with artist John Romita Jr. to tell his final story of the team that started the Marvel Age!
Collecting
FANTASTIC FOUR: THE LOST ADVENTURE
and
THE LAST FANTASTIC FOUR STORY
(which began production when Sumerak was an Assistant Editor)!
.
Labels: Marvel