New Comics On-Sale June 4, 2008...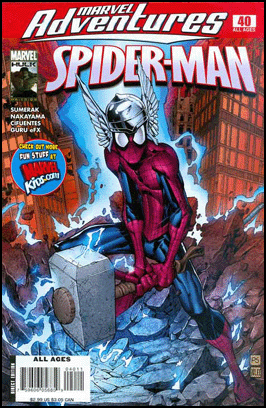 MARVEL ADVENTURES: SPIDER-MAN #40
Written by MARC SUMERAK
Art by DAVID NAKAYAMA
Cover by PATRICK SCHERBERGER
"Whosoever holds this hammer, if he be worthy, shall possess the power of -- Spider-Man?!?" When our webbed wonder unwittingly aids a devious demi-goddess, his reward is a one way ticket to Asgard. But things start going south as soon as Spidey starts going Norse! Prepare for an epic tale that the bards will sing of for centuries to come (most likely with an occasional unnecessary "thee" or "thou" thrown in for good measure)!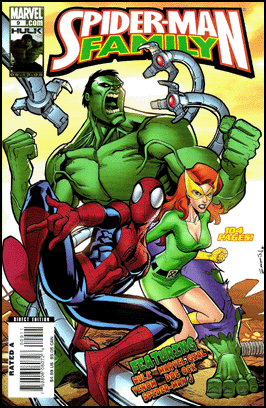 SPIDER-MAN FAMILY #9
Written by TOBIN, AKIRA & SUMERAK
Art & Cover by AUCOIN & AKIRA
Spider-Man, the friendly neighborhood... chaperone? When the S.H.I.E.L.D. helicarrier races off to fight a hostile UFO, Nick Fury asks (okay, tells) Spider-Man that he needs to watch after Bruce Banner. Now all Spidey needs to do is convince a city full of assorted thieves and felons (and... DANG... Dr. Octopus!) to KEEP IT DOWN for the day, cuz, you know, this is the guy that turns into the Hulk. PLUS: the story no one thought they would see, the debut of all-new backup feature "Mr. & Mrs. Spider-Man"! In this first installment, using their individual talents, Peter and Mary Jane Parker join forces to prevent the Lizard from destroying his own family. Also featuring
Spider-Man J
!
.
Labels: Marvel