New Comics On-Sale May 7, 2008...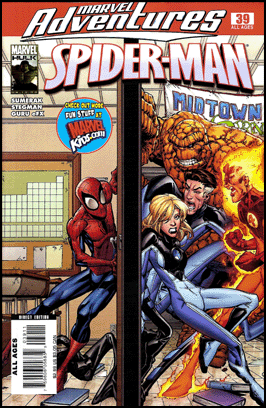 MARVEL ADVENTURES: SPIDER-MAN #39
Written by MARC SUMERAK
Art by RYAN STEGMAN
Cover by PATRICK SCHERBERGER
Hold on, Spidey! You can't fight the Fantastic Four! You're all supposed to be on the same side! Not to mention the fact that you're waaaaay outnumbered! Wait... the FF kidnapped your school's new exchange student and are experimenting on him in the Baxter Building?!? Well, then, what are you waiting for, webhead? IT'S CLOBBERIN' TIME! (Umm... just try to be the "clobberer," not the "clobberee"...)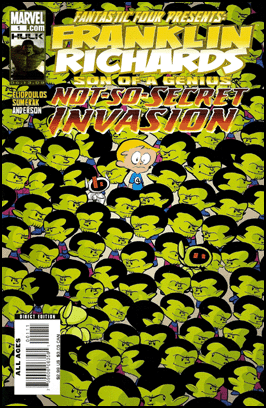 FRANKLIN RICHARDS: NOT-SO-SECRET INVASION
Written by MARC SUMERAK & CHRIS ELIOPOULOS
Art & Cover by CHRIS ELIOPOULOS
The secret is out and no one is safe... not even lovable little Franklin Richards and his robot pal, H.E.R.B.I.E.! The Skrulls have taken over the Baxter Building and it's going to be intergalactic insanity for our dynamite duo in this not-quite-official tie-in! And if Frank and H.E.R.B. do manage to survive the Skrulls, they still have to deal with other invasions -- from giant lizards, super-villains and evil robots! It's five new stories invading a comic shop near you this May!
.
Labels: Marvel