New Comics On-Sale August 6, 2008...
New comics this week: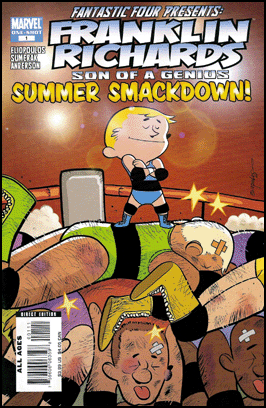 FRANKLIN RICHARDS: SUMMER SMACKDOWN!
Written by MARC SUMERAK & CHRIS ELIOPOULOS
Art & Cover by CHRIS ELIOPOULOS
In this corner: wearing blue trunks and weighing in at 63 pounds -- the Baxter Building's Baby Boy -- FRANKLIN "SON OF A GENIUS" RICHARDS! And in this corner: wearing tight spandex and weighing in at a whopping 500 pounds -- Aunt Petunia's favorite nephew -- BENJAMIN "THE THING" GRIMM! It's the showdown of the century! And if Franklin survives the first round, he has four more challengers waiting in the wings ready to take his title! LET'S GET READY TO RUMBLE!!!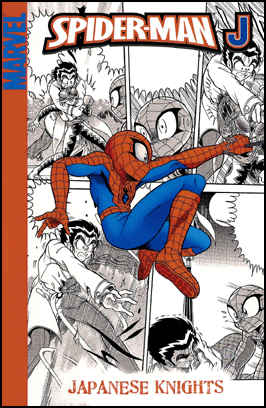 SPIDER-MAN J: JAPANESE KNIGHTS Digest
Story and Art by YAMANAKA AKIRA
English Adaptation by MARC SUMERAK & ZEB WELLS
Fresh from Japan... SPIDER-MAN J! Originally published only in that country, SPIDER-MAN J enjoyed a large following of loyal readers. Now, fans here can enjoy Spider-Man J's black & white manga-styled adventures, as well -- collected for the first time in America and translated for your reading pleasure!
This digest-sized trade paperback collects the
SPIDER-MAN J
stories from
SPIDER-MAN FAMILY #1-6
.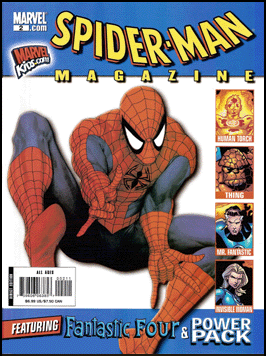 SPIDER-MAN MAGAZINE #2
Written by DAVID, SUMERAK, DeFALCO & PARKER
Art by SCHERBERGER, GURIHIRU, WILSON & WIERINGO
Cover by STEVE McNIVEN
It's Spider-Man from cover to cover in the second senses-shattering edition of the Wall-Crawler's very own ongoing magazine! In addition to full-length comic-book stories, this issue features puzzles and games, pinups, a letters page, and a pull-out poster!
Collecting a number of classic Spidey stories... including
SPIDER-MAN & POWER PACK #2
(written by Sumerak)!
.
Labels: Marvel