New Comics On-Sale November 5, 2008...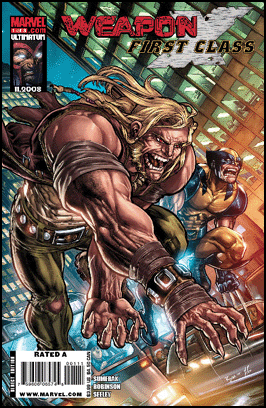 WEAPON X: FIRST CLASS #1
Written by MARC SUMERAK
Art by MARK ROBINSON and TIM SEELEY
Covers by MICHAEL RYAN
Long before his memories were restored, the X-Man known as Wolverine spent years seeking to unlock the mysteries of his past. Some of those memories were best left forgotten. Join Charles Xavier as he journeys deep into Wolverine's mind on a quest for answers that will shed new light on one of the darkest periods of Logan's life -- his days in the Weapon X program! It's a brand-new look at the horrifying history of Marvel's most prominent mutant!
PLUS: Each issue features a 10-page back-up story featuring an important player from Wolverine's past! First up, an untold tale of Wolvie's arch-nemesis, the mutant madman known as Sabretooth!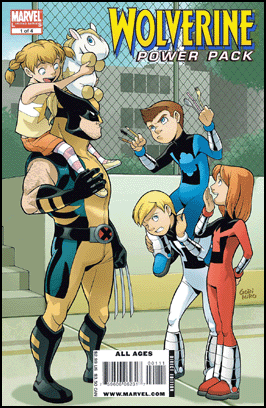 WOLVERINE & POWER PACK #1
Written by MARC SUMERAK
Art & Cover by GURIHIRU
"All right, bub. Gimme my appearance schedule for November..."
"Sure, Mr. Logan! There's your regular solo title, of course. Plus, the usual line-up of team books."
"So that's just UNCANNY, ASTONISHING, NEW AVENGERS and X-FORCE. No prob."
"There's also your side projects. ORIGINS, FIRST CLASS, MANIFEST DESTINY, another FIRST CLASS..."
"Uh huh. Anythin' else?"
"Don't forget cameos! Possibly AVENGERS/INVADERS... maybe a SECRET INVASION appearance..."
"Hmph. Sounds like a light month to me. Think I got room for one more book. You got anythin' FUN?"
"Actually..."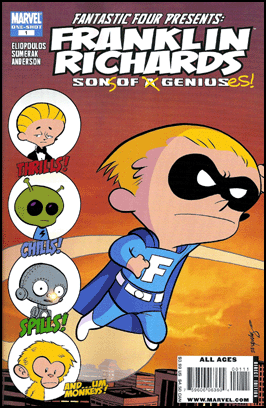 FRANKLIN RICHARDS: SONS OF GENIUSES
Written by MARC SUMERAK & CHRIS ELIOPOULOS
Art & Cover by CHRIS ELIOPOULOS
The Marvel Universe is a world of infinite possibilities, and as a member of the Fantastic Four family, Franklin Richards has the means to explore each of those possibilities to the fullest! Since every alternate reality has its own unique version of Franklin, the chances of disaster seem pretty high -- no matter which dimension you call home! But if all of those Franklins from across the folds of space and time found a way come together... well, let's just hope that every alternate reality has a H.E.R.B.I.E. too!
.
Labels: Marvel