Coming in April...
This April sees the release of even more cool new books written by me!
Don't be a fool... check 'em out!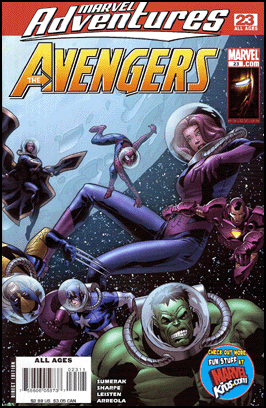 MARVEL ADVENTURES: AVENGERS #23
Written by MARC SUMERAK
Art by KEVIN SHARPE
Cover by LEONARD KIRK
AVENGERS RE-ASSEMBLE! What happens when you take the "Earth" out of Earth's Mightiest Heroes? You end up with a bunch of Avengers that have mysteriously vanished off the face of the planet! Now Captain America and Spider-Man must call on some of their newest allies to help them rescue their missing teammates. But will this new roster of unpredictable heroes be able to work together long enough to save the day... or will they just end up making things even worse?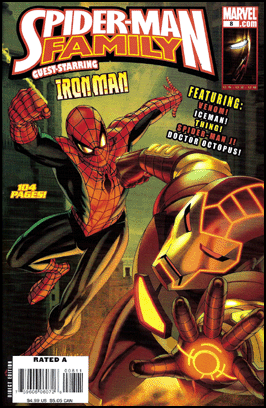 SPIDER-MAN FAMILY #8
Written by PIEKOS, GREVIOUX, AKIRA & SUMERAK
Art by HOWARD, HEIGHT & AKIRA
Cover by DAVID WILLIAMS
So, have you ever noticed that Peter Parker never really grows facial hair? That's just this side of weird, right? We felt sorry for the wall-crawler, so we went and got him a special guest star, THE INVINCIBLE IRON MAN!!!!!! Because I think we can all agree that Tony Stark's got the sweetest facial hair in all of Marvel Comics. Oh! And they fight a Nazi robot. PLUS... Spidey vs. Iceman! Spider-Man J! And a TON of classic Spidey stories!
.
Labels: Marvel